Chelsea boss Frank Lampard has started his very first season as a Premier League manager with a host of quality young players to pick from.
It is great that Lampard had the successful Chelsea academy to dive into, and players from that pool who had been out on successful loans to bring back in, because the club was banned from signing players.
Lampard bought the likes of Tammy Abraham, Mason Mount, Fikayo Tomori, and Reece James back into his squad, and they have all done reasonably well for Lampard so far.
The Blues boss even pulled the highly promising Billy Gilmour into the first team fold, and he was staking his claim right before football paused.
But there is one lesser known youngster who has also found his name float onto the lips of Lampard, that is 18-year old midfielder Henry Lawrence.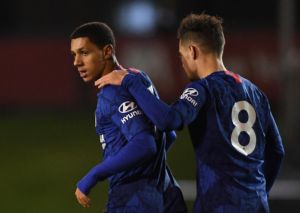 Whilst talking about players who were starting to come through the ranks, and were training well with the first team at times, Lampard mentioned Lawrence.
Lampard told the The Chelsea Magazine:
"I wanted to know all the players, the names of the ones who were training well and deserved a chance. It's easy to pluck a Billy Gilmour, but it's also a case of hearing that, say, Henry Lawrence is training well – then get him over, get him training with us.
"All those little details are important and it's brilliant, it's what it's all about – it shouldn't
be any other way."
"Football in England changed with that Southampton team of 2013-14, there is no other team that had as big an impact in changing the mindset." – Who modestly said this about their own side? Find out here.
More Stories about

featured