Report: Chelsea victorious in PL opener with comfortable win over Terriers
Three goals and three points as Chelsea's dominant performance sees off Huddersfield away from home in our first game of the new Premier League season.
Maurizio Sarri is doing a fantastic job with his new club as things stand. Winning his first league game in charge of a new club is never easy, and a comfortable victory like this will only thrive the team more onward.
Alongside the manager, Chelsea also introduced two new players to the English top-flight today, as Kepa Arrizabalaga and Jorginho made their league debuts for the club. Kepa had a rather easy game between the sticks, recording himself an important clean-sheet, while Jorginho dominated the middle of the park – adding a goal to his name from the penalty spot.
Chelsea began the game very confidentally, and were able to score twice before half-time. N'Golo Kante – of all people – sliced home a lovely volley from an inch-perfect Willian cross at the 34th minute. Arriving as a World Cup winner, Kante is taking on a new role under Sarri this season, trying to help the team more in attack than before. Looking to it now, he seems to be doing a great job!
Unlike under Antonio Conte, Chelsea refused to sit back after scoring the opening goal and added more pressure to the Terriers' defence. A smart run from Marcos Alonso was well noted by Jorginho, who played the Spaniard through with the help of Ross Barkley on goal before taken down for a penalty kick. Jorginho stepped up to take it, and made no mistake sending the keeper to the wrong way.
Despite a few good Huddersfield chances, Chelsea were 2-0 up at the break and more was coming.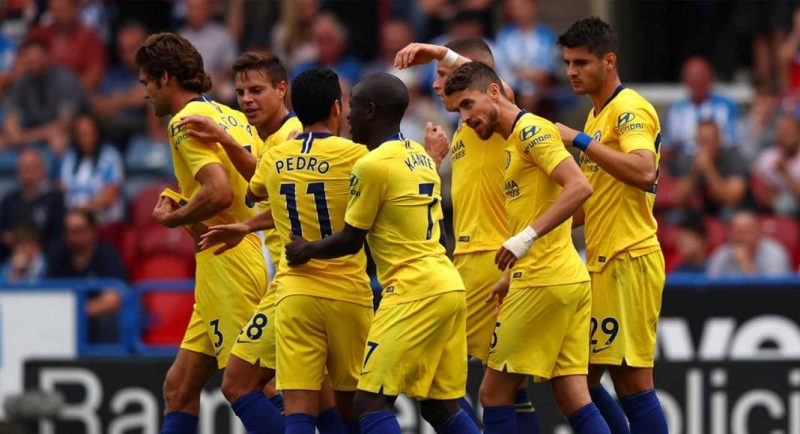 Huddersfield were unable to work themselves any proper momentum of a potential come-back, and Chelsea enjoyed the possession on both halves of the pitch. The so-called 'Sarriball' is still a work in progress, but the second half was a lot closer to what we should be seeing in 'a few months' time' – as Sarri himself predicted.
Marcos Alonso hit the bar and Antonio Rudiger went close from a corner, but it was Pedro who sealed the deal for Chelsea on the second half. Eden Hazard, who replaced Willian from the bench, only needed a few minutes to make his mark in the game, as he assisted the former Barcelona man for a great 3-0 goal.
Chelsea are currently on top of the Premier League table and will look to retain their position up-top as they face London rivals Arsenal next weekend at Satmford Bridge. Bring it on, and Come on Chelsea!