There are many of us currently stuck inside our homes with no football to watch or play, and many of us are using our time to get our football fix in other ways.
Chelsea Assistant Head Coach Jody Morris has been carefully selecting his all-time Premier League Xl to fight his boredom.
Naturally, he has selected 6 former Chelsea players. He simply could not leave our his boss Frank Lampard, who joins Petr Cech, Ashley Cole, John Terry, Eden Hazard, and Kevin de Bruyne.
Along with them, he names Rio Ferdinand, Gary Nevile, Patrick Vieira, Cristiano Ronaldo, and Thierry Henry.
This is a pretty tasty looking team I have to admit!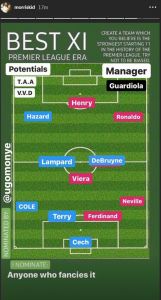 More Stories about

featured