Chelsea striker Tammy Abraham stuck three fingers up to the Wolves fans as he left the field yesterday afternoon. One finger too many from our perspective…
Abraham was booed throughout his time on the field yesterday. We were rather puzzled as to why.
Sky Sports reported back in January this year that Abraham was close to signing for Wolves on loan, but surely that couldn't have been sufficient grounds to BOO him?
It appears it was, at least for them, but Tammy had the last laugh, finding the back of the net on three occasions as Chelsea left the midlands with all three points.
He made sure to remind the home crowd of the mark he left on the game, too, as he trotted off the turf raising three fingers…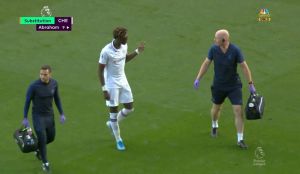 Honestly, with them booing him for no good reason for the whole contest, he could probably left one of these fingers tucked into his palm…