Chelsea and Liverpool's head-to-head record in the Premier League era could not be any closer. Who will pull ahead tomorrow afternoon?
While there is a considerable gulf in quality between the two sides at this point in time, there hasn't been a great deal to separate them throughout the Premier League period. Well, other than the five Premier League titles, of course.
As a result, the head-to-head record over the full Premier League era is looking incredibly tight. Identical, in fact. Both teams have 20 wins each, 14 at home and six away. What are the chances of that?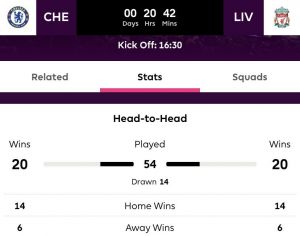 If there is a victor tomorrow, they will pull into the lead in our head-to-head mini league. Not that it counts for anything, other than personal pride, but it is a clear indication of how little there has been to separate us, particularly over the last 15 years.
We'll be hoping that it'll be a similar story tomorrow, because that way we'll be in with a chance.