Both Gary Neville and Jamie Carragher have predicted that Chelsea will finish outside the top four in the Premier League this season, report The Sun.
Chelsea have begun their Premier League campaign with a heavy defeat and home draw. It's no surprise that fans and pundits alike are not entirely convinced we have what it takes to compete this term.
However, it seems absurd to rule us out of the running for Champions League qualification so early in the season, when we still have a squad full of strong players and exciting youngsters.
While that may be the case, neither Neville or Carragher have hesitated from doing so. Have a look at their predictions in this graphic, which has been created by The Sun.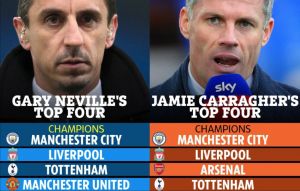 It's difficult to imagine what they see in either of Manchester United or Arsenal to have them ahead of us. Either way, it will be that little bit sweeter at the end of the season when we prove them wrong.