Chelsea legend John Terry has been pictured giving some words of advice to the Blues' young guns, although this lot are likely some way off first-team involvement.
Terry always found time to mix with our promising young talent during his time at Chelsea, and little has changed since his departure from the club in the summer of 2016.
If anything, the former Chelsea skipper will be even more inclined to visit the Cobham training pitches after close friend Frank Lampard was appointed head coach.
Either way, JT isn't allowing his Aston Villa affiliation to complicate his relationship with Chelsea, as this image proves, with him in conversation with one of our youth sides while in full training gear!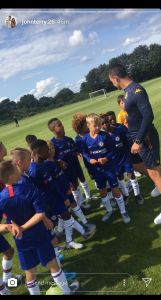 Just how happy Villa fans will be to see this remains to be seen, but they ought to let him off. Terry is one of us, Villa Park is merely providing a useful stop gap as he refines his coaching ability.