A survey taken back in September 2018 proves just how few Chelsea fans expected Frank Lampard to be in charge of the Blues so early in his managerial career.
Lampard was officially appointed as Chelsea's new head coach last week, marking the end of a month of speculation linking him with a romantic return to his beloved club.
When he finally signed along the dotted line, few were surprised, with nobody else being so strongly linked with taking the vacant role at Stamford Bridge this summer.
However, the situation has changed considerably from less than a year ago, when many Chelsea fans clearly did not envisage the possibility of him taking the reins so soon.
See this graph, shared by Reddit user r/Chelsea FC Survey King, which shows that just 8% of those surveyed expected Lampard to be in charge during this time frame.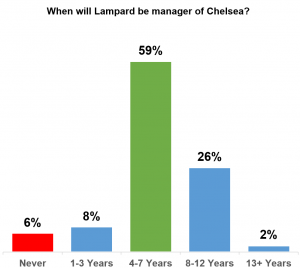 Of course, this was soon after Maurizio Sarri took charge, with Chelsea still being unbeaten in the Premier League at that time. A change of management was not on the horizon.
Even so, this actually materialising seemed a distant possibility, which is represented in the figures you see in the above graph. It just goes to show, football is full of surprises.