An eagle-eyed Reddit user has spotted an unreleased Chelsea training shirt, donned by Cesar Azpilicueta, which is absolutely gorgeous.
It's very rare that any club is able to keep their upcoming kit releases under wrap anymore. The designs get leaked online and are subsequently circulated to the entire fan base.
It happened with both our home and away kits for the upcoming season, but there's a new shirt which Chelsea appear to have no interest in keeping secret.
Reddit user /sansiro24 posted the below image of Azpilicueta wearing what appears to be either a training or warm-up shirt after Friday's loss in Japan.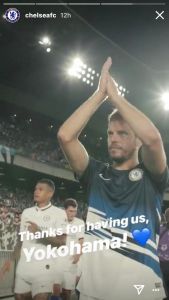 As you can see, it's beautiful and would likely fly off the shelves if Chelsea were to release it to the public anytime soon. You can put our names down for one, that's for sure.
If this is what the players will be wearing in the warm-ups for games, it certainly ought to get them in the mood. If you look the part, you act the part, as they say…