What Eden Hazard has included as part of the design of his new Nike boots will put a smile on the face of every Chelsea fan.
While we are still healing from the departure of our talisman, and his absence will be felt for some time, we cannot help but be happy for him as he embarks on the next chapter of his career.
Chelsea and Hazard may be together no more, but they will live long, and fondly, in each other's memories. The Belgian has now proven that himself, as reported by the Express.
The Express publish photos of the new Nike boots that Hazard will be donning during his opening fixtures as a Real Madrid player, and they include an obvious nod to his former employers.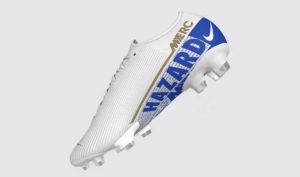 Express carry a quote from Nike themselves which confirms that the blue towards the heel of Hazard's new boots is a dedication to his beloved Chelsea: "Racer blue accents honour his former club."
It's great to see that Eden will not be forgetting about us any time soon. This club does tend to leave an imprint on a player, thus we wouldn't be surprised to see him back here one day.