A Chelsea Ladies player has appeared to take a sly dig at John Terry on Twitter.
Anita Asante, who is London-born of Ghanaian descent, was clearly keeping close tabs on the situation surrounding Moise Kean at Juventus.
Kean was racially abused by Cagliari fans while playing for Juventus, with Leonardo Bonucci attempting to shift the blame onto the teenager.
If you're not up to date with the situation, watch the below video.
Bonucci backtracks on Kean remarks after mounting criticism led by Sterling pic.twitter.com/TfOK9zIxcR

— The Guardian (@guardian) April 4, 2019
Bonucci has been struck by widespread criticism for his comments, and quite right too. It's a level of ignorance that has no place in football.
READ MORE: Chelsea chairman allays fears of the fans ahead of crucial summer
READ MORE: Chelsea send scout to watch 21-year-old Brazilian in action
READ MORE: Details of Chelsea's 'cup kit' for 2019/20 campaign leaked
Asante is one of countless within the game who has contributed to the Bonucci backlash, but the Italy international isn't the only player in her sights.
Asante retweeted a tweet which appeared to be highlighting the fact that Chelsea legend John Terry had liked Bonucci's post on Instagram.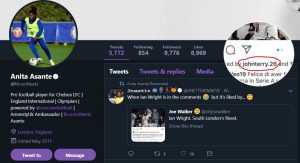 Terry was accused of racially abusing Anton Ferdinand during a clash between Chelsea and QPR, but was found not guilty of doing so in a criminal court.
That clearly means little to Asante, who has had no hesitation in taking a dig at one of the greatest players ever to represent Chelsea football club.
Terry may well have been guilty of what was accused of him, only he knows for sure, but there's no need to drag him into this situation. This is about two people – Bonucci and Kean.