Today, Chelsea FC is one of the superpowers of world football. But things weren't always that way, and supporters of the west London club had to wait nearly a century for an era of success like the one they are experiencing now.
This level of surprise, and now sustained, eliteness is part of what makes Chelsea, and European football in general, so exciting to bet on. In any given year, you never know which almost-there mega club is going to put it all together and make a run to league and UEFA glory. Conversely, you never know when a perennial favorite is going to wear thin, making every match even more must-watch and unpredictable.
Below is our short list of the top Chelsea games of all-time.
April 11, 1970: Chelsea 2-1 Leeds (a.e.t)
With just one top flight title occupying their trophy shelf at the time, Blues supporters hoped that their run to the 1970 FA Cup final could welcome in the 70s as a prosperous one for their club. While it would still be a few more decades before they could string together a group of titles, Chelsea's first FA Cup title will always be fondly remembered by older fans.
After they battled Leeds to a 2-2 draw at Wembley, the final was forced to go to a replay at Old Trafford. The match was a violent, rugged affair and had many instances of foul play that would be straight red cards in the modern game. Leeds held a 1-0 advantage, but a Peter Osgood goal in the 78th sent the match to extra time, where a long throw-in would find David Webb, and then the back of the net, to win Chelsea their first FA Cup.
April 30, 2005: Chelsea 2-0 Bolton
Even though Arsenal's Invincibles were still extending their historic unbeaten streak in the 2004/05 season, it was Chelsea that would set the still-standing English Premier League record of 95 points and 29 wins. Led by first-year manager Jose Mourinho, the most successful season in club history began to take shape when Chelsea took the top spot on the table in November 2004 and never let go.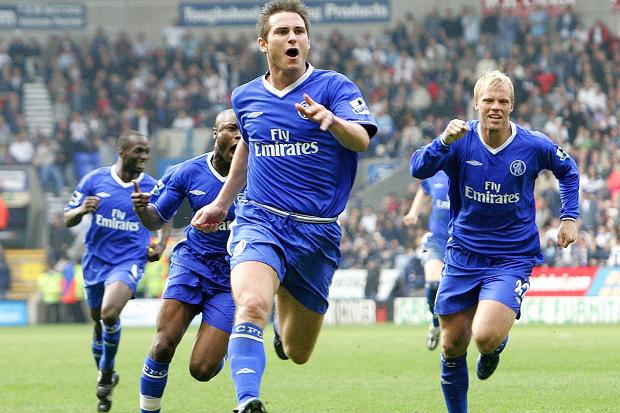 Already the League Cup Champions, the Barclays title could be locked up before May if Chelsea could beat Bolton (in the midst of one of their own best seasons in club history) at the Reebok. Bolton held firm the first half, but as he had done all season, Frank Lampard came through with a big goal in the 60th. He would add one more in the 76th to seal Chelsea's first top flight title almost exactly 50 years to the date of their last.
April 14, 2009: Chelsea 4-4 Liverpool
After going into Anfield the week earlier and coming away with a 3-1 victory, Chelsea's mission was clear and simple: don't concede three goals, and thus advance to the semis of the 2008-09 UEFA Champions League. That was easier said than done, and within the first half hour Liverpool had leveled the aggregate score at 3-3.
In the second half a Pepe Reina howler, an Alex free kick, and a Lampard touch-in would shift the aggregate back to a seemingly safe 5-3 for Chelsea. But Liverpool would summon the spirit that took them to UCL Glory in 2005, netting two goals in three minutes, putting them in position to advance on away goals with just one more score. But in the 89th it was Frank Lampard who would finally dash the Reds' dreams, securing Chelsea a 4-4 match result (7-5 on aggregate) and a trip to the semis.
April 24, 2012: Barcelona 2-2 Chelsea
That trip in 2009 resulted in a matchup with Barcelona and ultimately saw Chelsea bow out. But they would get a chance to exact revenge at the very same stage of the competition three years later. Up 1-0 after the first leg played in London, underdog Chelsea had the formidable task of going into Camp Nou against the defending UCL champions and current #1 team in the world.
The Blues' efforts began to look futile though as Barca would score twice quickly to go up 2-1 on aggregate quickly. To make matters worse, captain John Terry would be sent off for an off-the-ball foul on Alexis Sanchez. Despite being down a man, Chelsea would remarkably get a goal back just before half. Needing to do nothing more than maintain the draw, Roberto Di Matteo had almost his entire squad play behind the ball the remaining half of the match. Somehow, Chelsea would survive a missed Messi PK and Barca's offensive onslaught, and an injury-time Fernando Torres breakaway goal would see the Londoners through to the final 3-2 on aggregate.
Chelsea were huge underdogs before this game kicked off, who knew it would be Torres would score the pivotal goal. Not many of us would have guessed Chelsea were going to beat the European giants!
May 19, 2012: Bayern Munich 1-1 Chelsea (3-4 on penalties)
As if the semi-final wasn't insurmountable enough odds, to win their first Champions League title Chelsea would have to go into Munich's Allianz Arena, the home stadium of their opponent Bayern Munich. The match remained a 0-0 stalemate until the 83rd when Thomas Muller would head in a cross from the edge of the box. But Didier Drogba would answer with a header of his own, sending the match to extra time.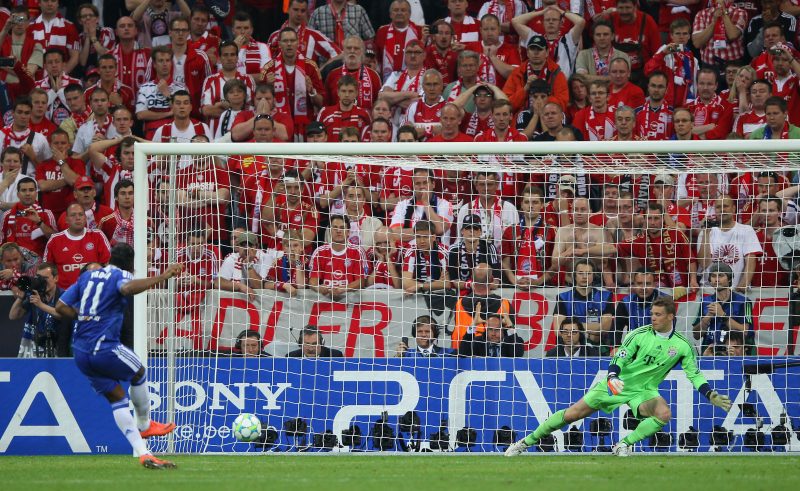 During ET, Petr Cech would miraculously save an Arjen Robben penalty, and the match would go to penalties. Mata would miss Chelsea's first, and Lahm, Gomez, and Neuer would make Bayern's first three. But another Cech save and then a hit post on Bayern's next two attempts would put the tally at 3-3 with none other than Drogba stepping up to the spot. Taking the kick quickly, the club legend would win Chelsea their first European title in his last ever match with the club.